PROMOTER ROY ENGLEBRECHT FINDS WAYS TO HOLD LIVE EVENTS
Monday, November 16, 2020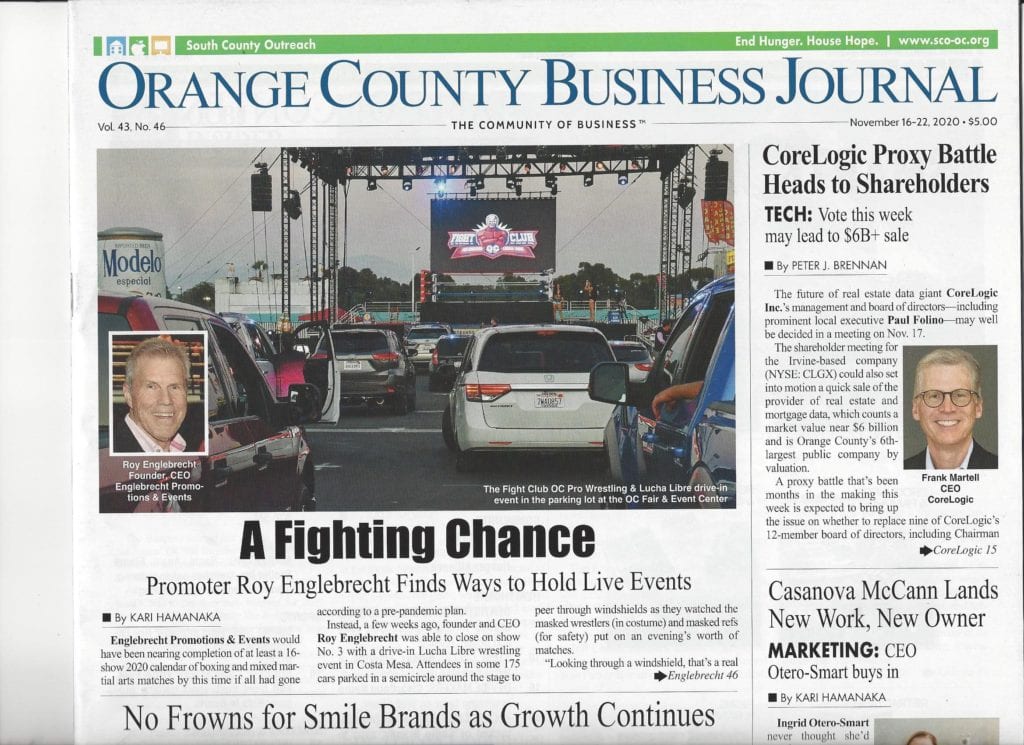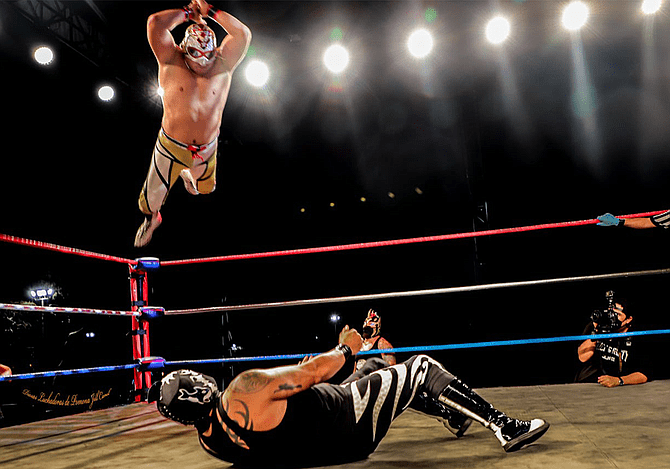 Englebrecht Promotions & Events would have been nearing completion of at least a 16-show 2020 calendar of boxing and mixed martial arts matches by this time if all had gone according to a pre-pandemic plan.
Instead, a few weeks ago, founder and CEO Roy Englebrecht was able to close on show No. 3 with a drive-in Lucha Libre wrestling event in Costa Mesa. Attendees in some 175 cars parked in a semicircle around the stage to peer through windshields as they watched the masked wrestlers (in costume) and masked refs (for safety) put on an evening's worth of matches.
"Looking through a windshield, that's a real stretch," Englebrecht said, "but with COVID-19 we had to evolve or die. We were the first sporting event in California with live fans, even though they were in cars. People came and their kids were wearing Lucha Libre masks. Instead of clapping after a good move, they would be beeping their horns. It was a real unique energy."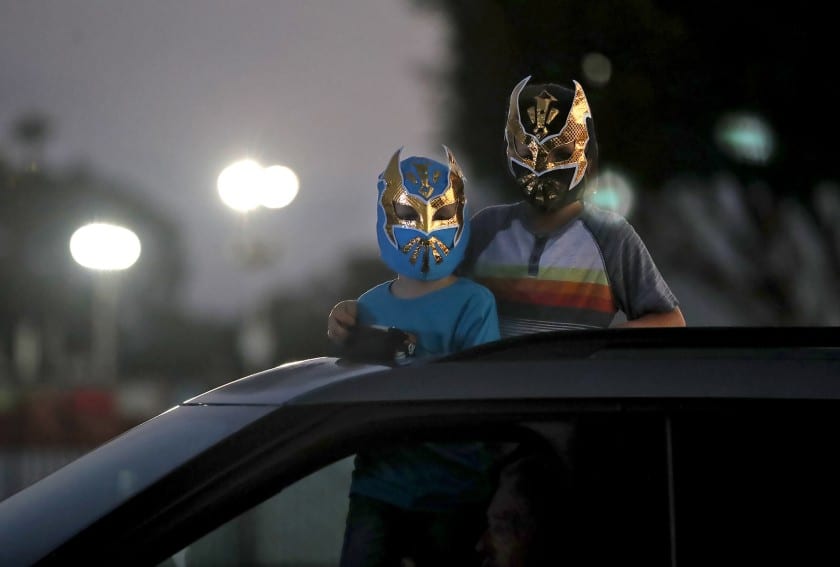 The event was for the Fountain Valley-based company's Fight Club OC season ticket and VIP suite ticket holders.
All things considered, it worked and made the best of a less than ideal situation as Englebrecht and his team, which bill themselves as Southern California's top fight promoters, think about how else they can work in the current operating environment.
Plans are now being considered to round out the year include one last set of bouts in the grandstands of the OC Fair & Event Center, which could hold 800 when accounting for state pandemic guidelines.
The show hasn't been confirmed, but it would at least bring in some revenue for the company, which promotes live boxing and mixed martial arts events, consults and also has a virtual Fight Promoter University program.
"A drive-in show is not what we're about and why we've been successful for 30 years. We did [the drive-in] to do something. We didn't want to sit in our office and feel sorry for ourselves," Englebrecht said.
"If you're a promoter, you pivot and do something. Now, we'll debate what we want to do. COVID really has dampened the spirits of a lot of businesses."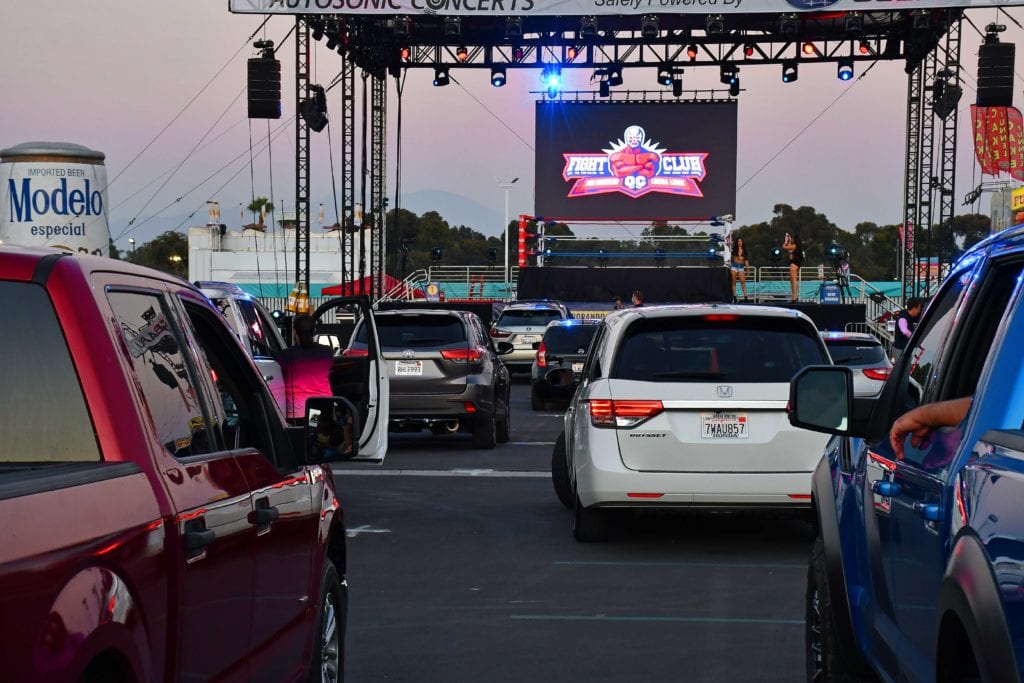 Lasting Effects
The sports industry veteran sees a longer-term impact from the pandemic on live sporting events beyond when COVID restrictions lift, holding on to the belief the revenues lost from 2020 are permanently gone.
"There's going to be a year that fans are not allowed to go to a stadium or an arena to cheer, to get emotionally involved with their team," the promoter said. "And when you take a year away, the enthusiasm from that person is reduced. Forget the fans not coming in mass again. The teams have lost tens and tens of millions of dollars this year that they can never get back, even if they have a good year next year and they're allowed to have fans."
Luckily for Englebrecht, he keeps his staff trim with three full-time employees—including son Drew Englebrecht, who was promoted to president last year—and the rest part-time. Unlike some major sports teams paying a stadium mortgage, he says he's in the rental business.
Next year's also looking up.The company's flagship Fight Club OC series—priced at $60 a seat, with 450 season seats and 10 VIP suites sold—is expected back in 2021 with six Thursday night fights planned at The Hangar at the OC Fair & Event Center.
There are also two private shows, originally slated for this year, that are likely to be pushed into 2021.
Ultimately, everything on the books so far are subject to what COVID protocols will still be in place next year.
Adapting to Change
Englebrecht is spry when it comes to taking leaps and adjusting to change.
He spent seven years as director of promotions for the Los Angeles Lakers and the Los Angeles Kings at The Forum. He was there when Magic Johnson was a rookie and the Lakers won the NBA Championship in 1980.
"I got a championship ring and that's kind of the ultimate. I was driving from OC to The Forum everyday and that got old," Englebrecht, a Newport Beach resident, said.
"I have a knack for putting butts in seats, if you will, and at that time [in the early '80s] there were only about seven licensed boxing promoters in the state so I said 'Boy, that's nice. I won't have a lot of competition."
The Irvine Marriott opened in 1985 and Englebrecht approached the hotel about holding his first fight in a ballroom there. Battle in the Ballroom, with a 1,402-seat capacity, sold out every scheduled monthly show for three straight years.
"It was the place to be seen in Orange County. That's why I always say it's the most fun you can have on a Thursday night in Orange County," he said.
Battle in the Ballroom remained at the Marriott for 25 years before relocating a decade ago to the Hangar. When MMA was approved in California in 2007, Englbrecht moved to integrate the sport into his events, despite calls from some boxing purists who didn't appreciate the sport.
Today, he promotes hybrid boxing-MMA shows. Seeing the interest in Lucha Libre, a Mexican-inspired type of pro wrestling, he said his company's now looking to add that into the mix.
"You cannot be a purist during a pandemic," he said. "We do boxing, MMA and now wrestling. You can't be locked in."