SO CAL's Premier
Fight Promotion
Englebrecht Promotions & Events promotes Fight Club OC, a hybrid Boxing & MMA fight series that does six shows a year inside The Hangar on the grounds of the OC Fair & Event Center in Costa Mesa, CA. This Thursday night fight promotion is nationally recognized as the premier club fight show in the country where fans can not only witness great fights but in the process have a chance to win a Gina's pizza, some Newport Ribs and a Descanso Restaurant Dinner at every show! With three high definition cameras always on the action and a 40′ x 40′ LED HD video board with instant replay, we'll sell you the seat, but you'll only need the edge…Welcome to Fight Club OC. 

Roy Englebrecht
CEO
Prior to the formation of Fight Club OC in 2011 Roy promoted the highly successful Battle in the Ballroom professional boxing shows at the Irvine Marriott Hotel for 25 straight years. This bi-monthly professional boxing show was the longest running club pro boxing show in the country. 36 current or former world champions have fought at the Marriott, including Shane Mosley and Johnny Tapia. In 2007 he became one of the first boxing promoters to introduce Mixed Martial Arts shows to his Battle in the Ballroom concept.

Drew Englebrecht
President
Drew Englebrecht graduated from Vanguard University with a B.A. in Sociology in 2003. Drew grew up in the Action Sports Industry designing clothes and selling sunglasses as a sales rep for Oakley before joining his father in the fight promotions business in 2008. With Drew's creative direction and branding help Roy Englebrecht Promotions became Englebrecht Promotions & Events and in that came the move from the Irvine Marriott Battle in the Ballroom series to the launch and rebranding that is Fight Club OC present day.

Mike Hart
Official Ring Announcer for Fight Club OC
Mike Hart has been stirring up fight fans as the "Voice" of the Battle In The Ballroom for seven years. A sportscaster turned news anchor, Mike has been a mainstay at ABC23 in Bakersfield, California since 1991. He started out working club shows in 1994, when he joined forces with Roy Englebrecht Promotions in December of 1999. He took over for legendary ring announcer Danny Valdivia at the Irvine Marriott in January of 2002. Mike has worked for numerous promoters throughout the years including Golden Boy and Goossen Tutor, with appearances on ESPN, FOX Sports and Showtime.
Erin Toughill
Vice President of Fighter Relations & Matchmaking
Erin Toughill has been involved in combat sports for nearly 30 years. Erin is a three-sport athlete having competed at the highest level in MMA, boxing, and bare knuckle boxing. A veteran of 31 professional fights, Erin is the first and only woman to be ranked in the top 5 in both MMA and professional boxing simultaneously. 
Erin is a world title challenger having fought Laila Ali for the first ever women's WBC super middleweight belt in 2005. Toughill also fought Jacqui Frazier-Lyde in boxing and knocked out future Strikeforce featherweight MMA champion, Marloes Coenon. Previously, Erin was the #1 ranked MMA fighter at 155 pounds and was ranked #2 in the world after grand slam champion, Cris Cyborg. Erin is extremely passionate about boxing and does online tutorials and striking breakdowns of both boxing and MMA. Toughill is also a boxing coach with nearly 20 years of experience having trained both male and female fighters in all combat sports at the highest level. In addition, Erin has been mentoring under Hall of Fame boxing coach, Buddy McGirt, for over four years. 
To reach Erin for a potential fight please email her at Missboxing99@gmail.com.

Diana Aguirre
Medical Coordinator
Diana Aguirre is a Doctor in Educational Psychology and is currently pursuing a certification in Sports Psychology at the California State University of Dominguez Hills. She obtained her Bachelor's degree in Psychology of Social Behavior from the University of California Irvine and her Master's in School Psychology from the University of LaVerne in May 2018. Diana has been an avid fan of the sport of boxing majority of her life. She became more involved in the world of action sports after she began training/boxing alongside her 13-year-old son in July 2021.  Her career in boxing started in January 2023 at Fight Club OC as a medical coordinator for fighters.

Damian James
Official Photographer of Fight Club OC
Damian James is an Orange County based freelance photojournalist and event photographer. With over 14 years of experience documenting people and events around the world in 5 different continents, he is back in his home state of California currently focusing his work in the Boxing/MMA arena. A dedicated fan of all types of combat sport, Damian has followed boxing his entire life and has been a fan of Mixed Martial Arts since it's debut back in 1993. He draws inspiration from the competitive nature of hand to hand combat and the fighting spirit of its participants, and hopes to inspire future generations of fighters and fans through his photographic contributions to the sport.

Evan Jacobs
Social Media Manager
Evan Jacobs received his B.A. from California State University, Long Beach in Film Studies. With a number of low budget films to his credit (in which Jacobs wrote, produced, directed and edited those projects) he first came to the attention of Roy Englebrecht Promotions with his film SCHUSTERMAN LEVINE: A BOXING FABLE. Fast forward a decade later and Jacobs and Englebrecht teamed up to make a reality TV pilot titled, THE PROMOTER. Showing the ins and outs of the fight promotions world over a 4 days period, Jacobs chronicled what Englebrecht and his staff encounter in putting on their legendary Battle In the Ballroom shows. As a freelance videographer/editor, Jacobs has been working with REP ever since creating promotional DVDs, viral spots and television commercials. "I have been a boxing fan since I was 14," Jacobs states. "To merge the world I come from with the world I have admired for so long is really the best of both worlds for me."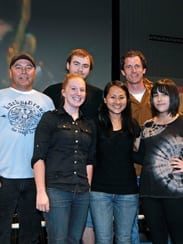 The Fight Club OC Production Crew
(names listed from left to right)
Steve Slade, Michelle Bakker, Eric Lowy, Christine Vu, David Junker, Rayka Zehtabchi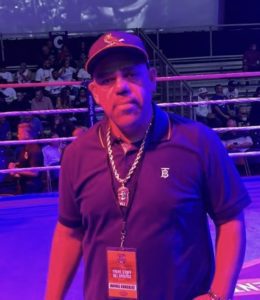 Ralph Gonzalez
Venue Setup Manager