Get ready for Opening Night on Thursday, February 17th as Englebrecht Promotions & Events brings a big seven-bout card into The Hangar. With only approximately 100 tickets left available, don't delay and get your tickets before we sell out at www.socafights.com.
Six undefeated fighters…two MMA veterans going head to head in a pro boxing debut for both of them, and a featured bout featuring a 3-0 vs 4-0…now that's a show you don't want to miss!
Let's first talk about this unique boxing matchup featuring UFC and Bellator veteran Curtis Millender facing Bellator and KOC veteran John Mercurio in a six round bout. Both fighters had winning MMA records and each had over 15 pro mma fights, but they want to now put 10oz gloves and shoes on and start throwing jabs, hooks, and uppercuts. This bout alone is worth the price of admission!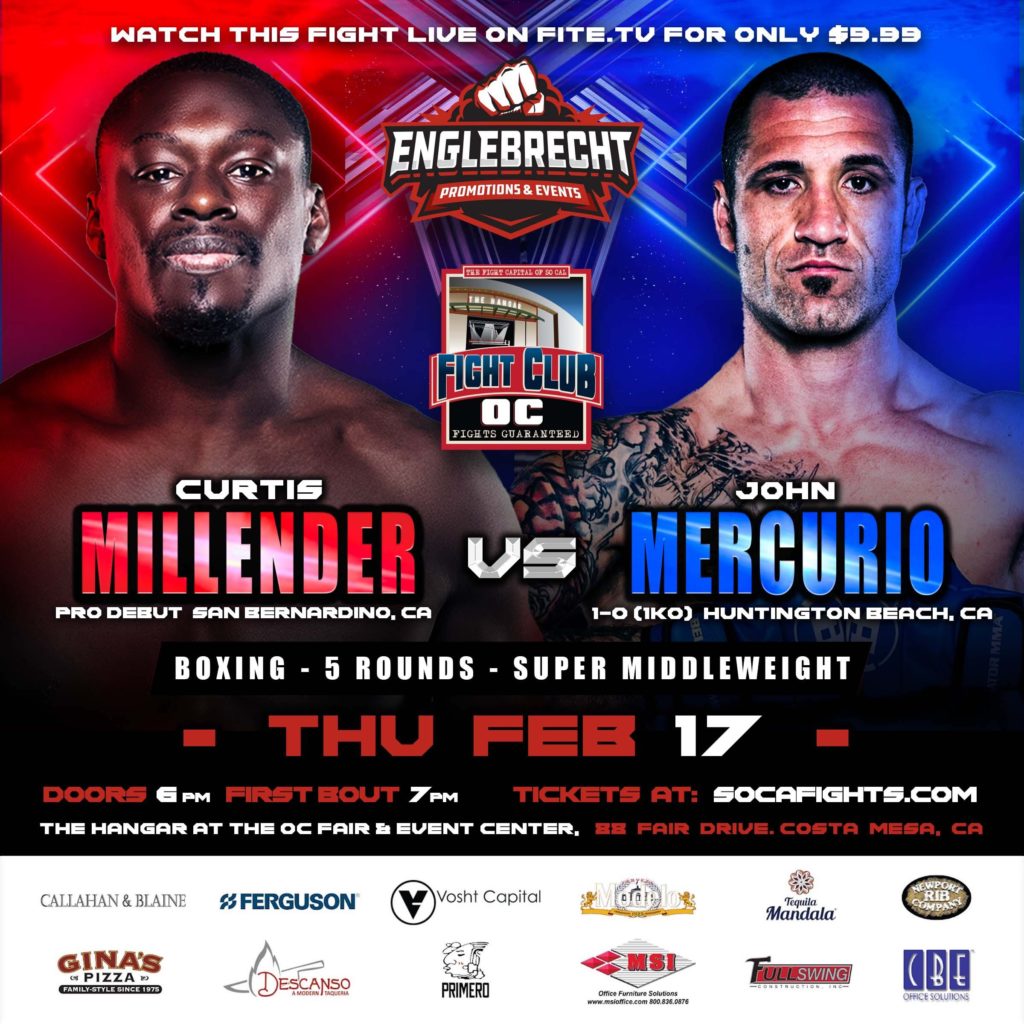 Other great matchups find Santa Ana's 3-0 Felipe Ruvalcaba vs 4-0 Juan De Dios Avilaout of Norwalk in a six round jr welterweight match up. MMA action will see Huntington Beach's Victor Sydnor take on Los Angeles' Christopher Cruz a talented amateur making his pro debut on Feb 17th. Nick Patea a FCOC veteran returns to face Ferrin Marcelin from Fontana in what could be an all out war in the Featherweight division.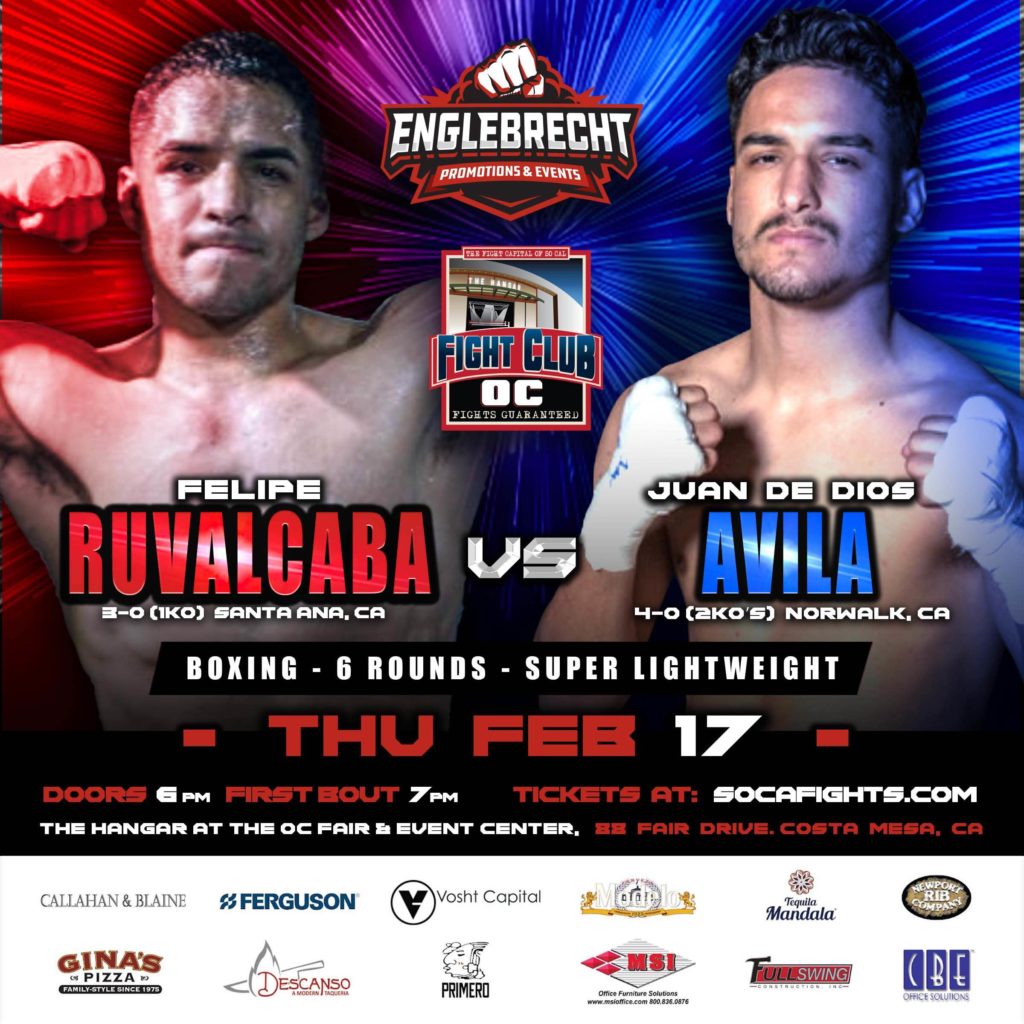 Boxing fans will see the return of local stars in Darynn Leyva from Orange as he take on undefeated Sergio Gonzalez a FCOC veteran from Riverside standing at 3-0 (2KO's). This bout set in the Super Lightweight division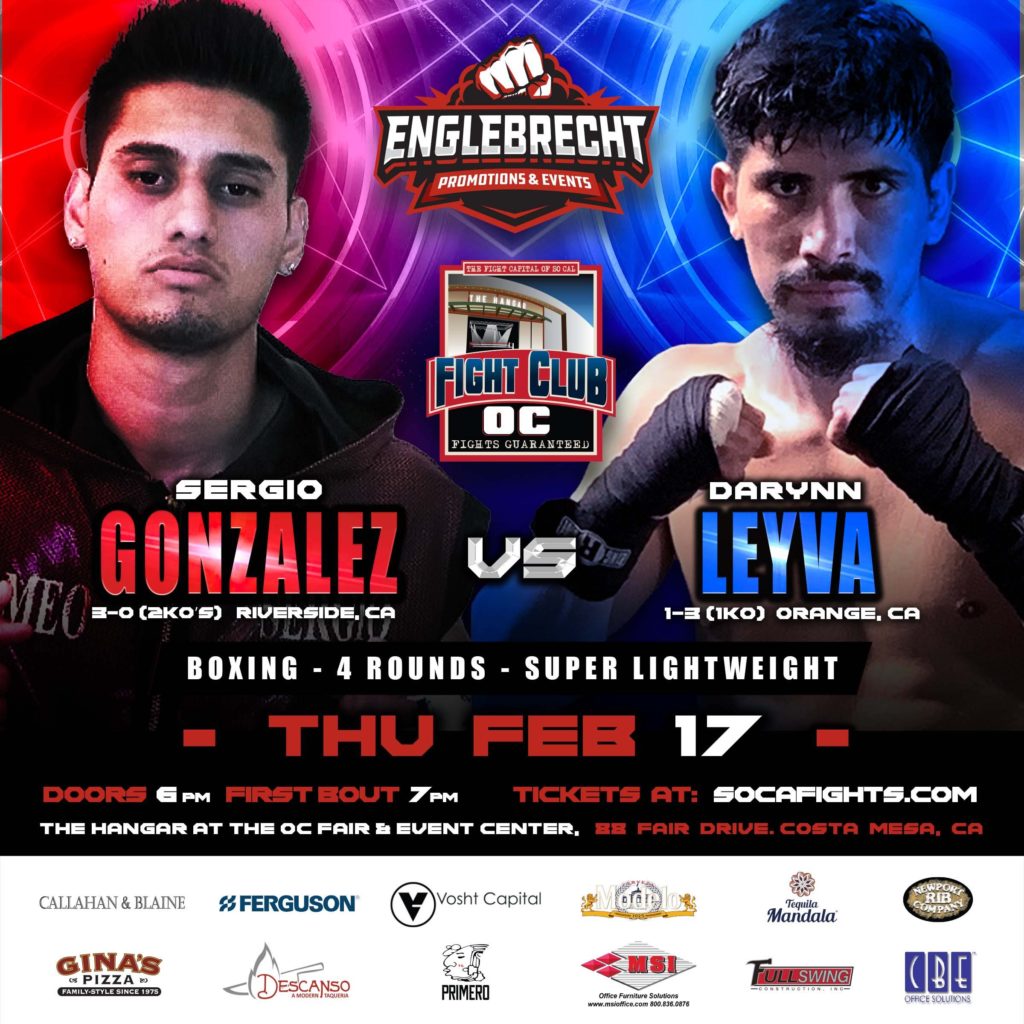 Sonny Robledo from Mission Hills returns to fight on Feb 17th against Ryan Picou from Las Vegas, a veteran of 18 pro fights! Also back in action on Feb 17th will be 3-0 (3KO's) Cain Sandoval in a six round battle against Issac Freeman from Los Angeles, CA. This fight will be "The Tequila Mandala Fight of The Night". Tequila Mandala is one of our new sponsors for 2022 so make sure you try a shot on Feb 17th.
Regarding the mask situation. Masks will be required in The Hangar, but can be taken off for eating and drinking. Plus watch the media on February 15th as the mask requirement might be relaxed.
We will see everyone on February 17th for Opening Night.
Don't forget about the Descanso Fight Night Specials that happen only on Fight Club OC Thursdays, where you can receive 20% OFF Food for any table that shows their Fight Club OC ticket. Must have at least one ticket holder at the table. Offer Good any time 11:30am-9pm on Thursday, Feb 17th.