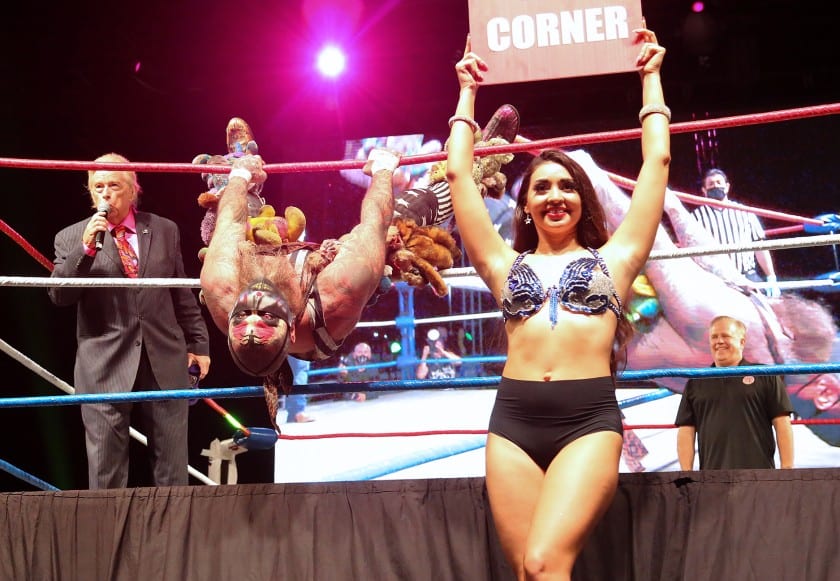 By ANDREW TURNERSTAFF WRITER SEP. 25, 20205:20 PM
Fight Club OC fans are accustomed to taking in boxing and mixed martial arts fights.
Season ticket holders returned to the Orange County fairgrounds in Costa Mesa for the first time since Feb. 14 on Thursday night to see a new form of ringside entertainment — lucha libre — and they didn't even have to exit their cars to watch the action.
At this private event, it was cool to wear masks, whether you were wrestling or watching.
Fight Club OC put on a drive-in wrestling show in the fairgrounds parking lot, where fans watched masked wrestlers battle Lucha Libre style. Wrestlers fought on top of an elevated stage, 3½ feet off the ground, giving every car a good view.
James Mayfield IV, 72, of Long Beach, brought his son and two grandsons to the event. His grandsons — James VI, 8, and Kerrik, 5 — emerged from the top of their car with luchador masks.
Asked where they got the masks, both looked at Mayfield and gave him a hug. That made it all worth it for grandpa.
"We're all hardcore boxing guys and MMA," said Mayfield, who added he has had season tickets to Fight Club OC for 25 years. "This is new to us. We're going to patronize it, for sure. It's a real good thing, especially for the kids. It's a family gathering. It's fun. It's a fun deal."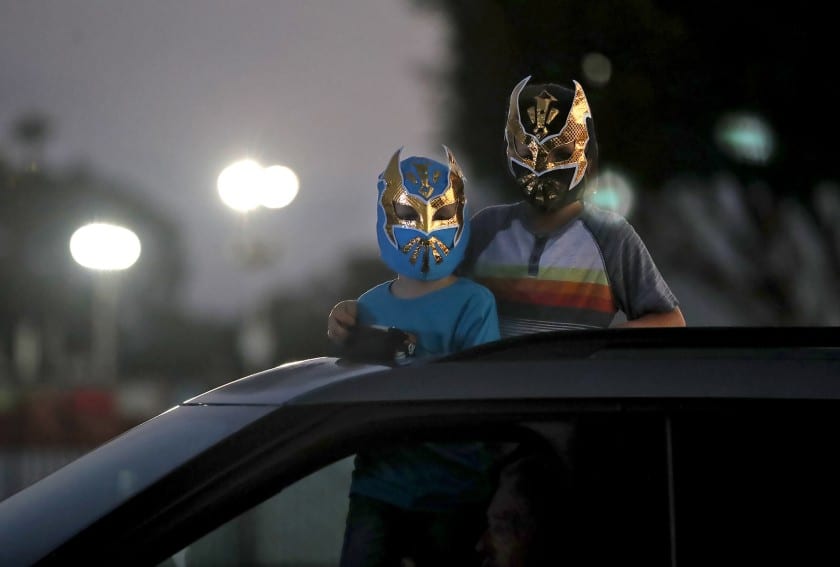 The night featured six bouts, including a four-man face-off for the vacant Fight Club OC pro wrestling championship belt.
Piloto Suicida came out on top in the main event, flying through the ring with consecutive jumps from the corner of the ring to close it out. He finished the match with his signature move, which he called, "The Splash."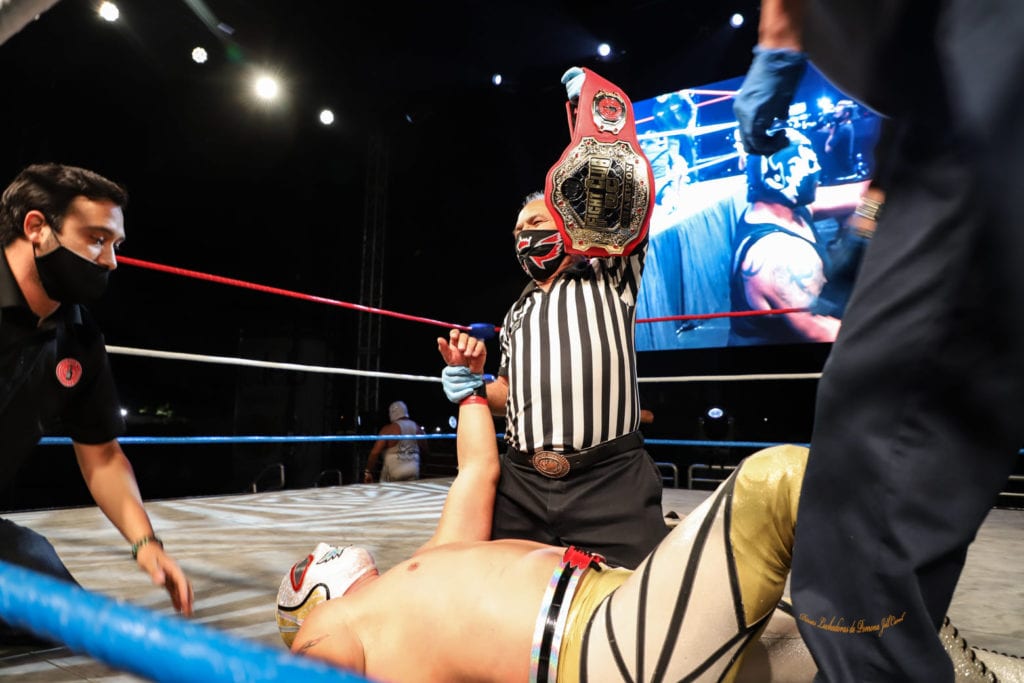 Shortly after winning the title bout, Piloto Suicida was jumped by his three combatants — Acero Dorado, Shamu and Dr. Maldad — and he left the ring on a stretcher.
A couple of tag-team matches provided extreme action, and the Orange County tandem of Steven Andrews and Simon Lotto, who hail from Anaheim, pulled off a win against Rico Bandido and Tito Bandido from Whittier.
Andrews executed a leaping backflip and landed it — a move called a shooting star — and together with Lotto, they brought their opponent to the mat.
"This is something a lot different with the masks and COVID and everything like that," Andrews said. "This company has done so much for us to put on this show for everyone out there. All the honking of the horns and everything like that felt amazing. It has been six long months since we have done anything, and it felt so great to be in that ring."
Lotto said that familiarity with each other led to their success and was thrilled with the win.
"The big key to a victory is knowing your partner," Lotto said. "Once you have a good established partner that you can kind of get everything going, the rest just flows, and with this partner, I trust him with my life.
"We're like brothers. We started in this business together. Sure, we went on our singles, but we're back, and Team High Risk is better than ever."
Che Cabrera and Fidel Bravo defeated Zokre and Kikutaro in the tag-team main event.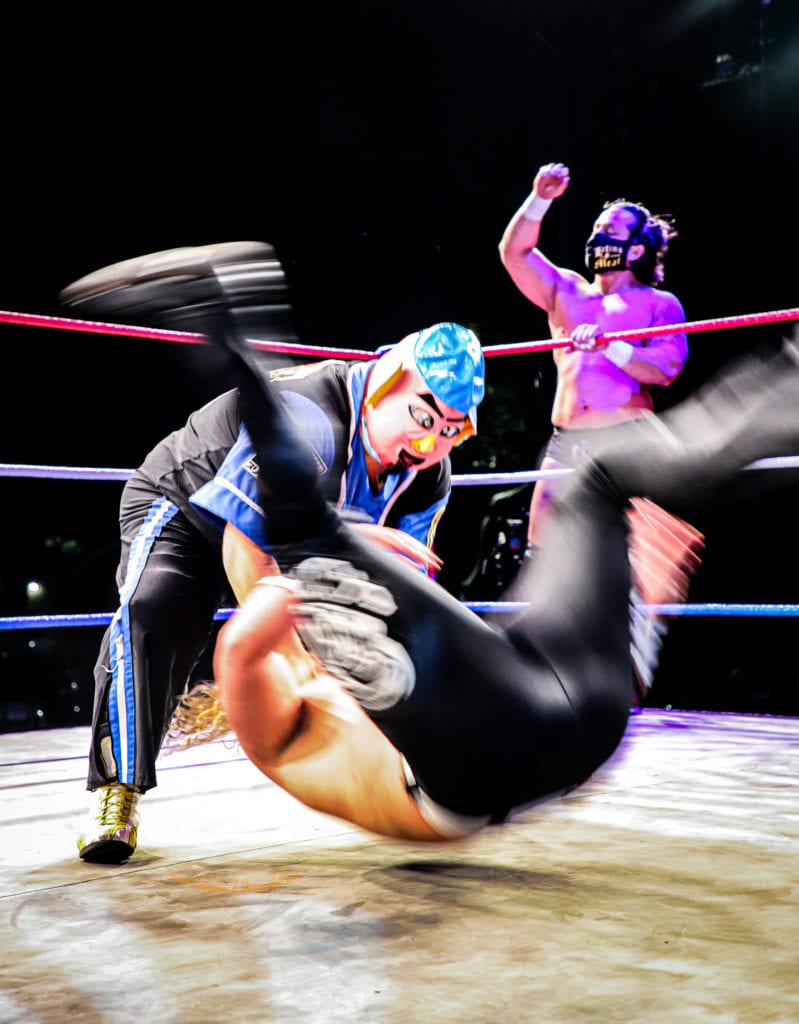 A highly entertaining singles match saw Brandon Gatson edge out Sinn Bodhi, a gruesome-looking, bearded wrestler who had strapped stuffed animals around his ankles as part of his costume. He also had ringside assistance from a man in a suit who tried to sabotage Gatson, including pulling out a fire extinguisher and attempting to use it if they crossed paths along the outskirts of the ring.
Sinn Bodhi turned on his ringside accomplice after he lost, sending his henchman into the ring to face Gatson, who left him hanging from the ropes with a single strike.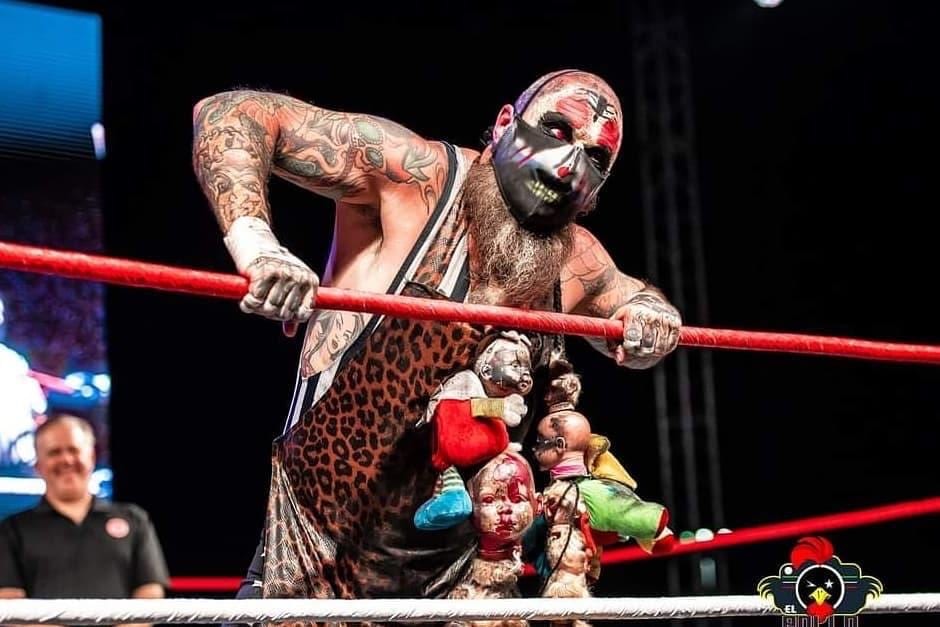 In the other singles matches, Legacy beat Principe Indu Jr. and Flecha Fugaz pinned Chaz Herrera.
Herrera appeared to take control of the match when he used the ropes to lift himself up and kick Flecha Fugaz in the chest. Flecha Fugaz paced around outside of the ring and looked to be offering a handshake of surrender. The match continued, however, and Flecha Fugaz won by fall a short time later.
"That's what many years in the business create," Flecha Fugaz said. "You got to [be] smart, so I make him believe, 'Oh, Flecha is tired. Flecha is done.' I'm going to take it now, and you see the result."
There might be a second edition of Fight Club OC drive-in wrestling. Promoter Roy Englebrecht, a Newport Beach resident, said he is looking at Oct. 15 as the date. Tickets for that event will go on sale to the public Oct. 3 at socafights.com.
Fred Garcia, 59, of Huntington Beach, will most likely return for the next event. He said that he used to watch John Armijo, who furnished a reputation for himself as "The Fighting Lifeguard," at the Irvine Marriott.
He said he has been coming to the fights for close to 40 years and been a season ticket holder for 20 years.
"It's nice to be back here, first time getting out in months," Garcia said. "I've got the kids with me, and they never want to do anything with mom and dad, so it's pretty cool to have them out and to be out here in the perfect Orange County weather.