On November 9th, 2019 SOCA Fights' fourth and final installment of The Gardens Casino Fight Night will be be one for the combat sports ages! You can only see it at one place and that's The Event Center at The Gardens Casino in Hawaiian Gardens, CA. Tickets are priced at $60 & $90 for front row and are available at www.socafights.com. The Gardens Casino Fight Night is without a doubt the most fun you can have on a Saturday night in the southland!
Headlining this powerhouse fight card is Kazakstan's Madiyar Ashkeyev 13-0 (6KOs). Ashkeyev will be putting up his perfect record against Rodolfo Ezequiel Martinez 43-8-3 (16KO's) for the vacant WBC USNBC Championship in an 8 round war! This bout promises to be a slugfest from the opening bell so it's the perfect bout to close out our 2019 Gardens Casino Fight Night season.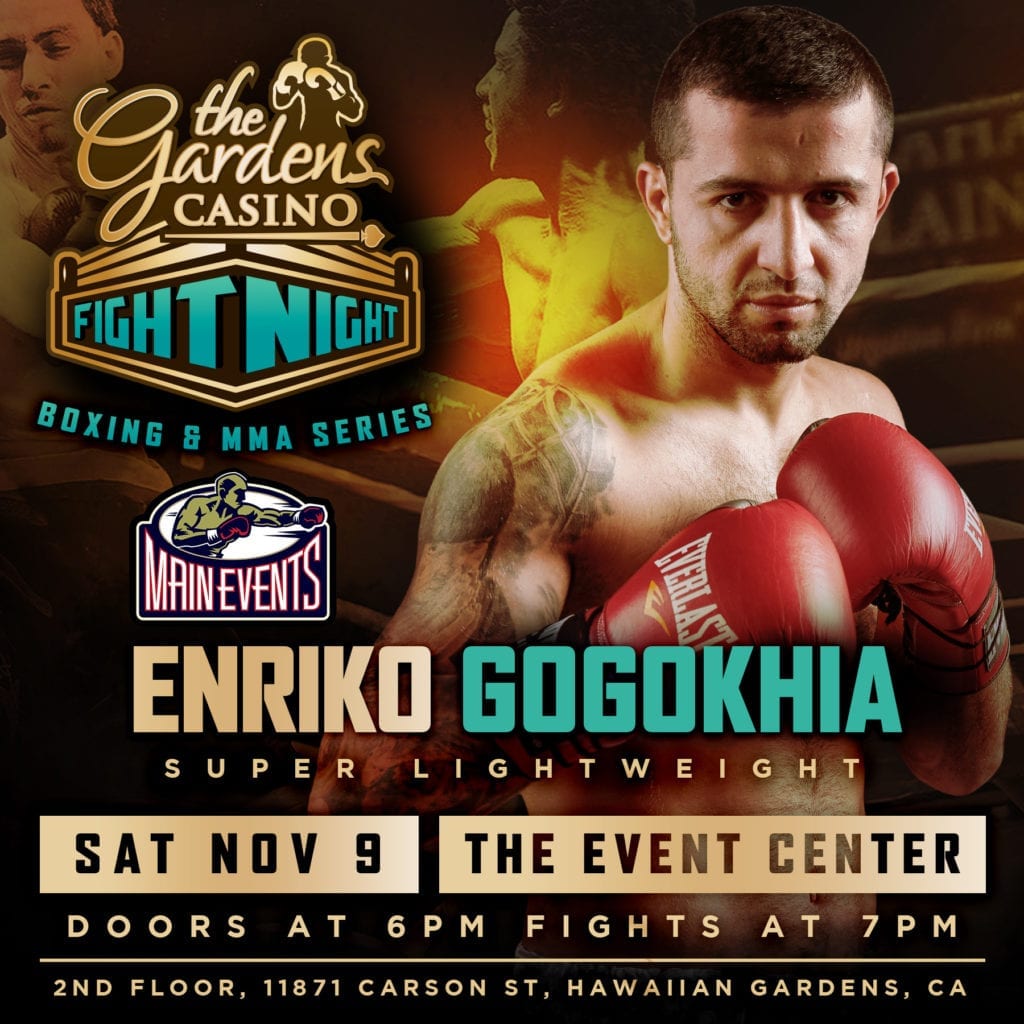 Enriko Gogokhia 11-0 (6KOs) from Zugdidi, Georgia will be co-headlining vs. Mexico's Miguel Zamudio 44-14-1 (27KOs). Gogokhia will be looking to show off his particular set of skills in this 8 round super lightweight bout. The only problem is that Zamudio stands in his way with the kind of pedigree that makes this match ripe for an upset. This is truly a pick-em' fight all the way!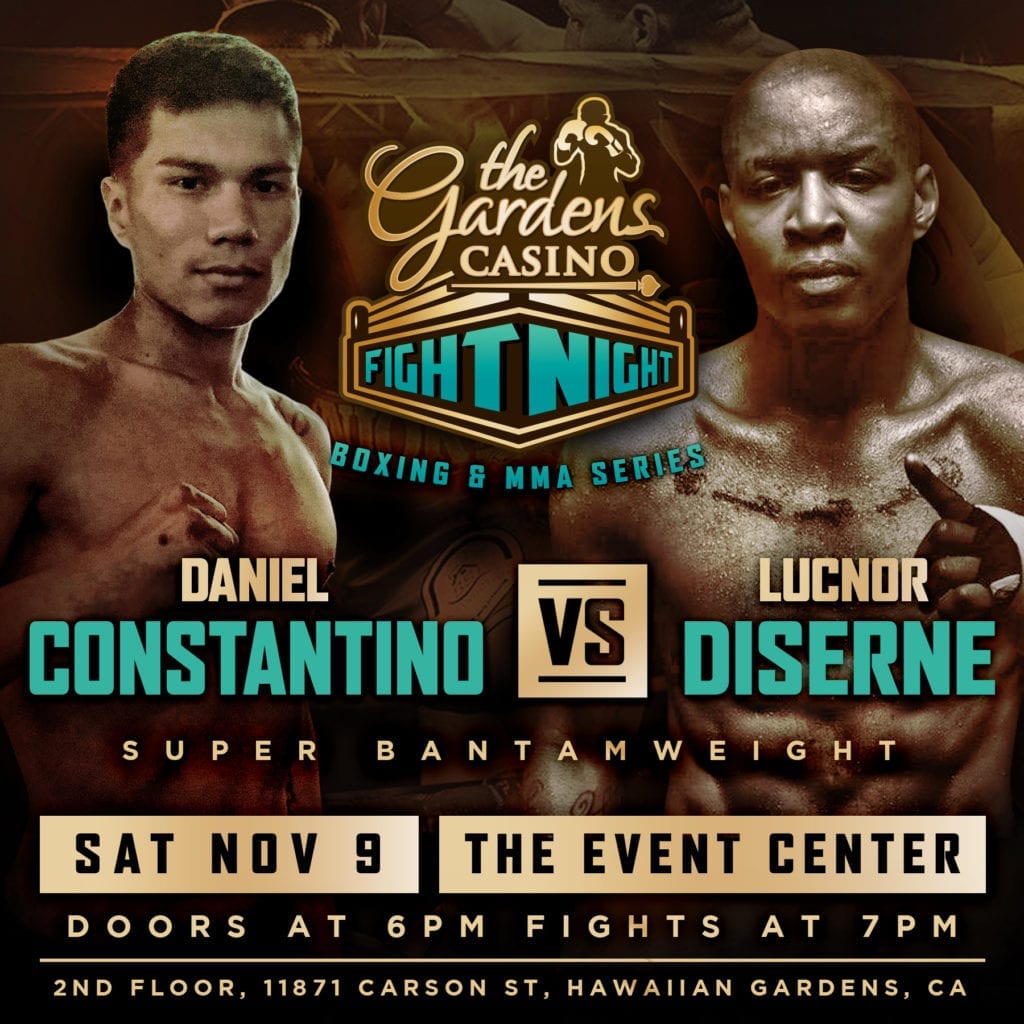 Compton's Daniel Constantino 4-3-2 (1KO) is going to take it to LA's Lucnor Diserne 0-4-1 in their 4 round super bantamweight match. Constantino is coming to battle. Diserne is coming for his first pro victory. There are many who think that this bout is going to be the Gardens Casino fight of the night! Watch the below "In The Corner" video backstory on Daniel Constantino before he enters the ring on November 9th.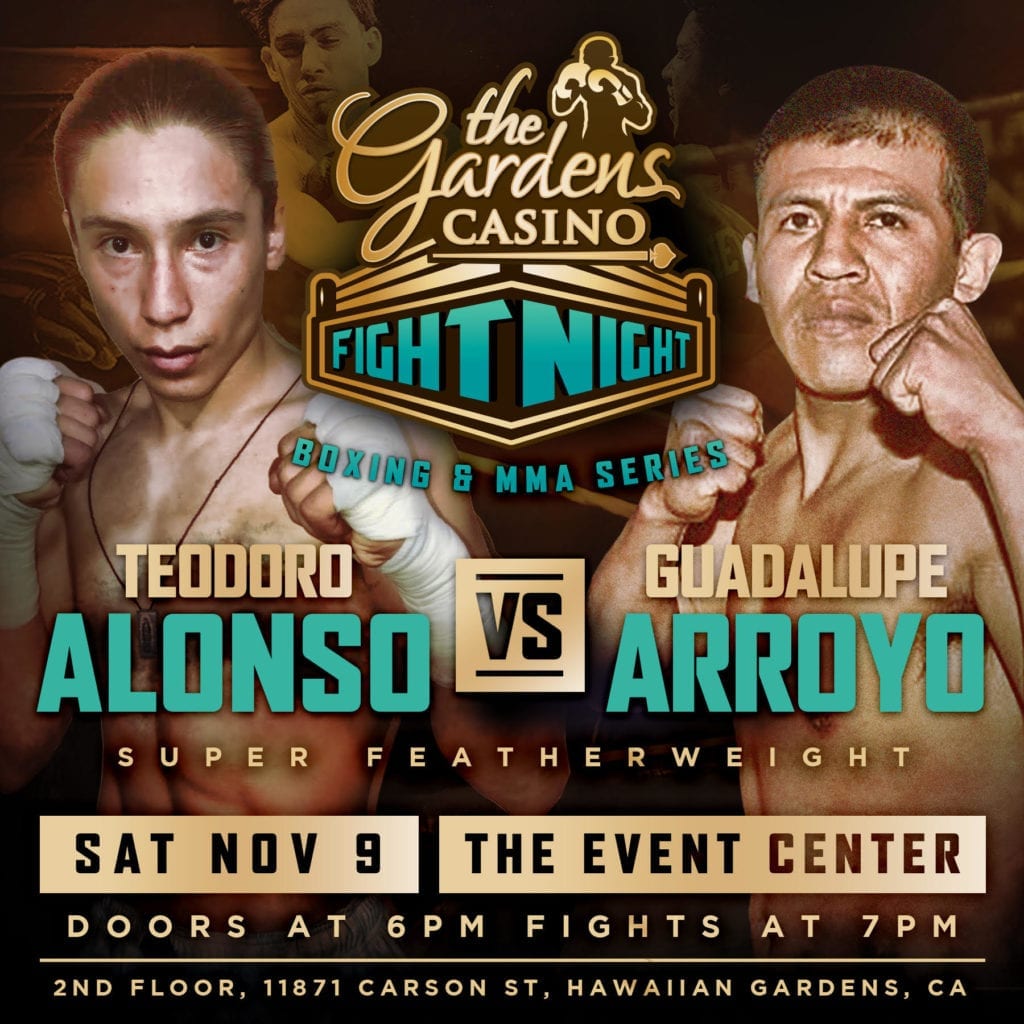 Teodoro Alonso 1-2 from Los Angeles will have all he can handle when he goes head-to-head with Huntington Beach's Guadalupe Arroyo 3-17. Do not let Arroyo's record fool you. He has lost many close decisions traveling up and down the southland. Arroyo is a road warrior of the highest order and he looks to make it a real war with Alonso in their super featherweight bout.
Brandon Ahrndt 2-1 from Fullerton brings his flashy MMA style into his 3 round featherweight bout against Giovanni Manzares of Riverside. The MMA action at the Gardens Casino always leaves fans wanting more. Ahrndt and Manzares plan to bring it for however long this bout goes. Whether it ends in submission, strikes, or by decision, those in attendance will be the winners for seeing this mano a mano contest.
Jeungjoo Choi 4-2 from Fullerton steps into the ring vs. Corona's Elijah Leggett, in a spectacular 3 round MMA bout in the featherweight division. Leggett comes into this contest with a great deal of experience. He plans to use that against Choi, who is itching to show Leggett that he isn't in any way intimated by his solid record. Neither fighter taking a backward step? Sounds like a great MMA match-up to us!
Once again, tickets are available at www.socafights.com with seats going for $60 & $90 for front row! This show WILL sell out so do not wait to order your seats! We'll see you at the final Gardens Casino Fight Night of 2019 on November 9th!