With Covid-19 regulations, causing people to now show a vax card or a covid negative test, putting a stop to indoor events over 1,000 people we decided that it was time that we go outdoors and let fans experience an outdoor Fight Club OC show under the stars. So the September 23rd and October 14th show will be outdoor shows until things cool down in the world of Covid-19.
The Main Mall Area of the OC Fair & Event Center, right outside The Hangar doors, will be converted to a Fight Club OC combative sports arena with over 1,500 excited fight fans treated to an explosive six bout pro boxing and pro mma show that only Fight Club OC can deliver. With an extra 300+ seats now available in the new outdoor arena, more tickets priced at $60.00 to this Sept 23rd show are now available online at http://socafights.com.
Matches Set for September 23rd Outdoor Event
Bout #6 – Boxing Super Featherweight Manuel Jaimes 11-0-1 (9KO's) vs. Aelio Mesquita 19-5-1 (17KO's)
Boxing fans are in luck come Sept 23rd when undefeated WBC Youth Title Holder Manuel Jaimes 11-0-1 when he steps into the ring against rugged Aelio Mesquitaa standing at a solid 19-5-1 (17KO's). This fight is set for 8 rounds in the Super Featherweight division.
Bout #5 – Boxing – Super Welterweight Donte Stubbs 6-2 (2KO's)vs. Kevin Ottley 6-2-1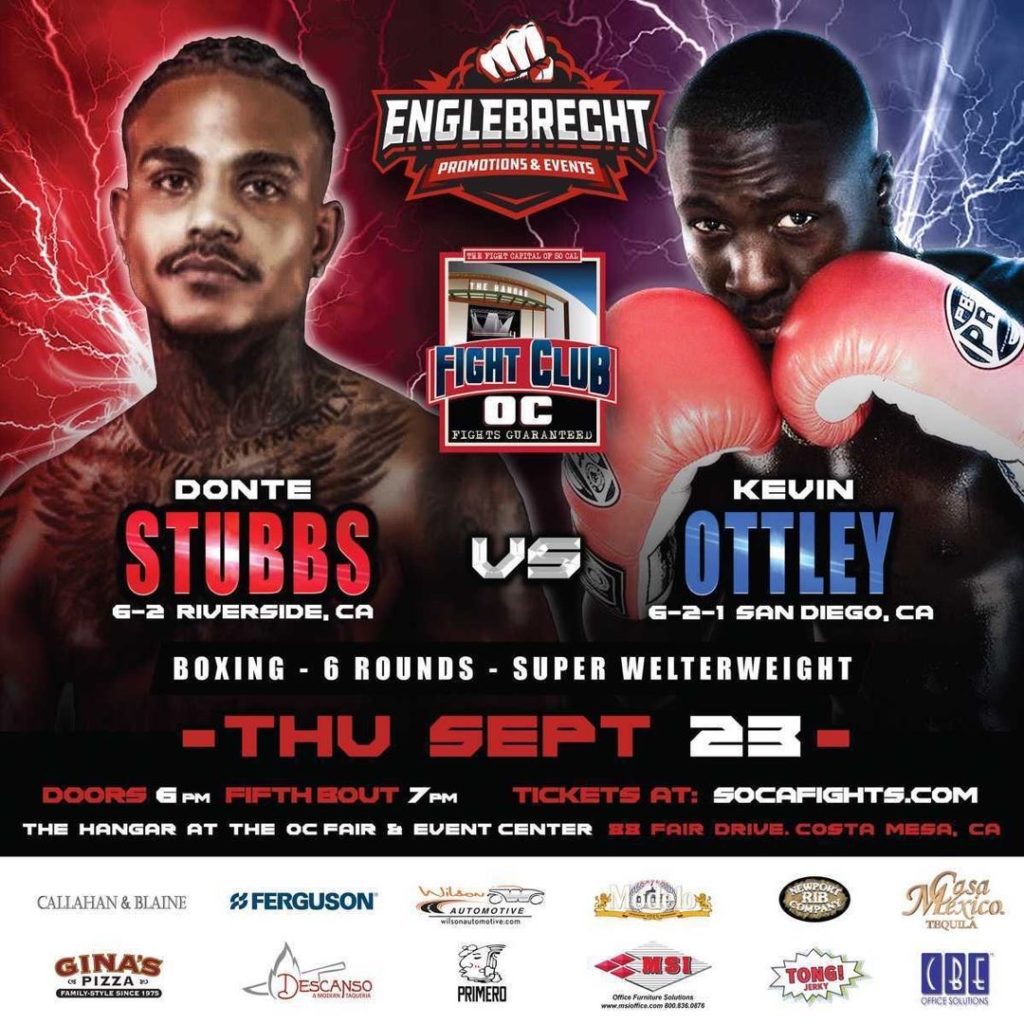 Donte Stubbs from Riverside a Fight Club OC veteran on both the Boxing and MMA side returns on 9/23 to face 6-2-1 Kevin Ottley from San Diego in a 6 round boxing battle. Both fighters stand at 6-2 and climbing the ranks, who will be the victor of this bout… come 9/23 we will find out!
Bout #4 – MMA – Welterweight Emmanueli Adzoh 2-1 vs. Patrick Becker Pro Debut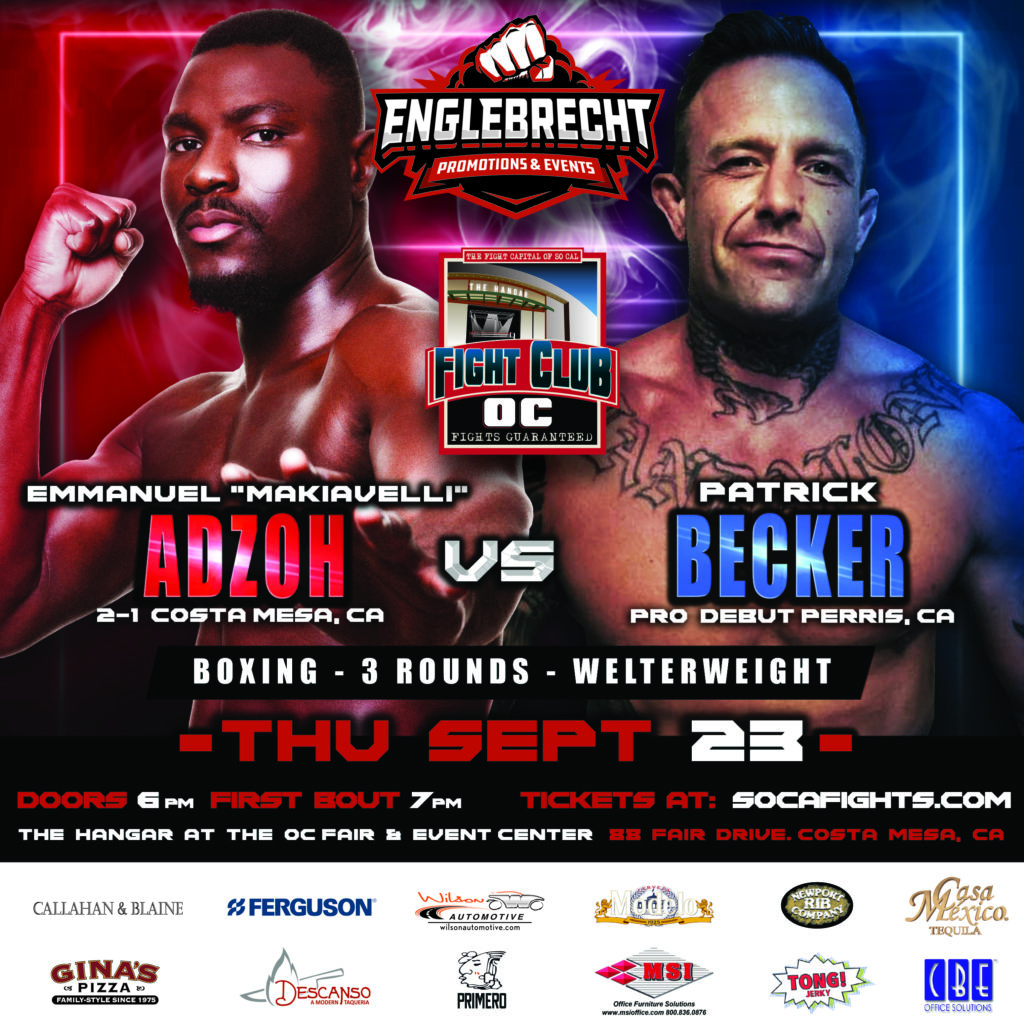 MMA fans on 9/23 will see Costa Mesa's Emmanueli "Makavelli" Adzoh take on Patrick Becker from Perris, CA who will be making his professional MMA debut.
Bout #3 – Boxing – Minimumweight Lorraine Villalobos 4-3 (2KO's) vs. Alexis Martinez 0-4-1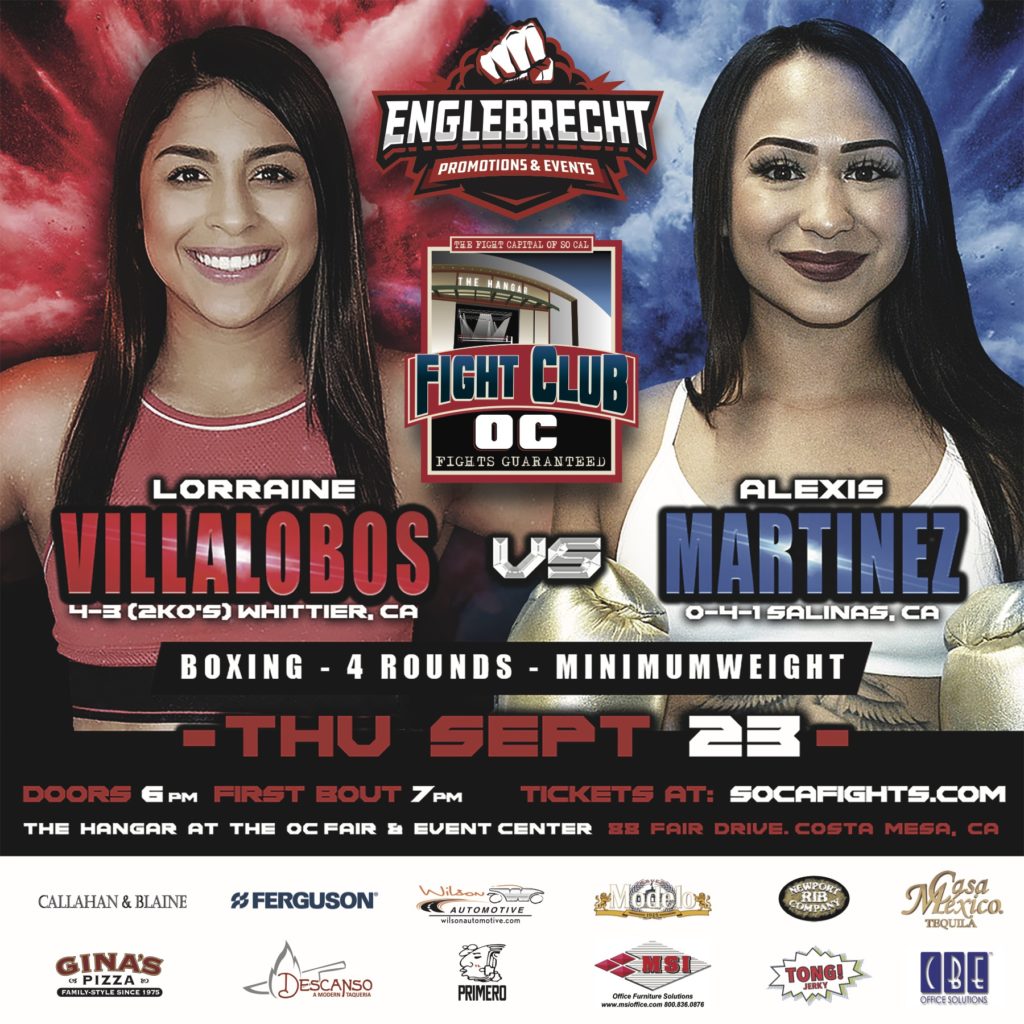 We know how bad the local fight fans have been wanting to see a woman's bout back at Fight Club OC and we have you covered for September! When 4-3 (2KO's) Lorraine Villalobos steps into the ring against Alexis Martinez a veteran of five professional fights. Bring your dollars bills to wad up and throw into the ring as if we know one thing, women's bouts never disappoint.
Bout #2 – MMA – Light Heavyweight Sean Sharaf Pro Debut vs. Bruno Casillas 1-4
Sean Sharaf will make his pro MMA debut on 9/23 against 3-0 Bruno Casillas from Lompoc. While Casillas seems like he has the advantage with four pro fights under his belt, Sharaf is coming to make a statement in his debut. Training out of RVCA under Jason Parillo it's hard to find a better striking coach, Casillas believe's he has the power and technique to stop Sharaf… Come 9/23 we will see who takes the W!
Bout #1 – Boxing – Welterweight Tayden Beltran 2-0 (2KO's) vs. Darynn Leyva 1-1 (1KO)
Our opening bout for September 23rd will see local talent electrify the outdoor venue as Fight Club OC Darynn Leyva 1-1 (1KO) takes on Huntington Beach's Tayden Beltran standing at 2-0 (2KO's). Both fighters are on the come up in the fight game and neither wants that "L" on their record. Be in your seat for this first bout set to walk at 7:05